Title: Netflix Strategic Management Analysis
Category: Coursework
Sub Category: Strategic Management Analysis
Subject: Strategic Management
References: APA
---
1.0 Introduction:
Netflix is American subscription-based streaming cooperation that allows its subscribers to watch T.V without being disturbed by unwanted advertisements. Netflix has been a public company since 2002. The organization started its operations in 1997 by rented out the DVDs through the mail, the idea attracted the interest of the customers, and Netflix was born and launched its first DVDs sales and rental website, Today, the Netflix has provided its subscribers with different service features such as; to watch T.V online on their smart T.Vs or download the shows to watch them later offline, The Netflix also launched their mobile phone application for the android and iPhone users, enjoying billions of download. Netflix has established its offices in nineteen countries and has a headquarter situated in Los Gatos (Onyusheva & Baker, 2021). The organization provides subscription-based streaming services in approximately 190 countries in more than 30 languages (Netflix, 2022). According to the statistics, the majority of Netflix's subscribers belong to the United States, Brazil, and the United Kingdom; the graphical representation of Netflix is presented below.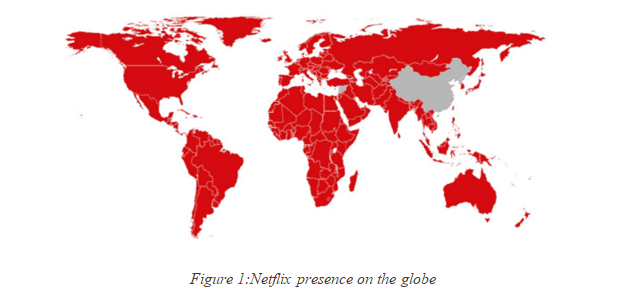 In recent times, Netflix has been regarded as the world's leading brand in the entertainment industry, with approximately 220 million subscribers worldwide. The Company is positioned at 115th place in the list of fortune 500, earned revenue of 29,697.8 million US Dollars, has a market value of 166,304.1 million US Dollars, and employs approximately 11,300 employees (Fortune 500, 2022). According to the Forbes list of the world's top 100 digital companies, Netflix managed to position itself at 47th place in Forbs (Forbes, 2022) and placed at 112th position in the Forbes list of the world's best employers (Forbes, 2021). Moreover, the organization is positioned in 26th place in the "World most Valuable Brands" (Forbes, 2022). The Mission of Netflix is "To Entertain the World", whereas the organization's vision is "To Continue Being One of The Leading Firms of The Internet Entertainment Era". Netflix called itself "A Fan of Entertainment" (Netflix, 2022).
2.0 Main Body:
The environment in which an organization is operating impacts every single aspect of the organization as these environment forces are internal and external in nature. Hence, the strategic management analysis of an organization cannot be completed without situational analysis of of company which requires investigation of environment i.e. (a) internal environment and (b) external environment faced by the company. Eruemegbe, (2015) states that managers have as essential role to play as they respondent to the environmental challenges and opportunities faced by the organization by making adjustment through their internal environment.
External environal scanning tool used to analyze the external environment faced by the company includes PESTEL and SWOT analysis framework with an intent to identify external factors influencing Netflix operations globally.
2.1 PESTEL Framework:
The PESTEL analysis is a tool used for external environment scanning. The PESTEL analysis of Netflix is performed by assessing the factors that are existed in the general environment of Netflix in the context of" Malaysia". Netflix belonging to the entertainment industry, also served as a complementary product for the Information Technology industry. Moreover, Netflix eliminated the role of the traditional DVD and blueray DVD by providing content on subscription-based model.
Political:
The political system of Malaysia is democratic despite being a constitutional monarchy system. Political climate in Malaysia is stable as there is a democratic government and judiciary working to provide justice to its citizens with laws aimed to attract foreign direct investment. Economic transformation plan of Malaysia was significantly affected by Covid-19 but in post pandemic environment looks stable. Malaysia is ranked 62 by transparency international in corruption perception index. Taxation regime in Malaysia is stable despite the fact the Malaysia from 2019 onwards have imposed 6% of digital, tax on foreign subscriptions services like Netflix. (Wong E. , 2022) In a nutshell, the political environment of Malaysia is moderate and poses no risk for Netflix despite the fact that digital taxes imposed by Malaysian government have increased the prices for subscription.
Economical:
Malaysian is an economically stable country with a GDP of 336.7 Billion US Dollars, and a GDP per capita of 10,401.79 US Dollars. The Inflation rate in Malaysia is 3.4%, and the unemployment rate is 4.3% reported in Q4 of 2021. (The World Bank, 2022) Malaysian economy is expected to revive in 2022 and projected to expand by 5.5% in 2022 as the government is making enormous efforts to address the adverse effect of Covid-19 on Malaysian economy. However, global uncertainty and increasing inflation poses risk to country sustainability as spillover effect of increase in oil prices and war of Ukraine are fading demand for exports and increasing fear of amid inflation. Amid Covid-19 recovery Malaysia has increased interest rate to 2.25% Covid-19 had negative impact on disposable income of citizens as household gross income decreased from RM7,901 in 2019 to RM7,089 in 2020 which is a 10.3% decrease in household disposable income. However, the country is expected to reach pre pandemic level in 2022 after the economic recovery from the pandemic. In a nutshell, the economic environment for Netflix in Malaysia is neither favorable nor unfavorable but can be deemed as moderate as decrease in household disposable income would have significant effect on household expenditure on digital subscription services like Netflix.
Social:
Malaysia is a small, less populated country with 32 million people. The statics at the world bank revealed that Malaysia has a Human Capital Index of 0.61 (Ranging from 0-to 1). Malaysian population comprises of multiple ethnicities which serve as window of opportunity for Netflix to create location in terms of content. Furthermore, demand for Asian content from Korean dramas to variety of Asian movies have ignited demand for subscription in Malaysia The majority of Malaysian population consists of Malays, Chinese, Indians and Others which is an opportunity for Netflix as Netflix have invested a significant amount of money on subtitling and dubbing with localized user interfaces in Malay, Thai, Korean, Tamil, Hindi, Traditional and Simplified Chinese. Concerning the population age, the statistics revealed that the majority of the population in Malaysia consists of the people from the age group pf 15-24 years of age which accounts for 16.5% of the total Malaysian population whereas 40.8% of the population comprises of people from the age group of 25-54 years of age. (The World Bank, 2022). These conditions favor Netflix as the population of Malaysia has a large diversity. In a nutshell, social environment for Netflix in Malaysia is highly favorable considering the diversified consumers with strong demand for entertainment in multiple languages.
Technological:
The statistics provided by the World Bank revealed that, in Malaysia 100% of the population has access to electricity, whereas 88.8% of the population uses the internet (The World Bank, 2022). Furthermore, Malaysia is ranked fastest growing ICT sector contributing 19% to the country GDP. (World Bank, 2021). In 2020, Malaysia reported 40 million mobile subscribers and 2.5 million fiber optics subscribers which serves as a window of opportunity for Netflix to increase its penetration in Malaysia by targeting new segment of consumers
Environmental:
The climate and environment of Malaysia are tempered, warmer, and hot as the country is enriched with the palm oil resources and surrounded by the jungle and ocean being a peninsula. The statistics provided by the World Bank further revealed that the Malaysia reported 7.6 % Carbon Dioxide emission (The World Bank, 2022). The low carbon emission and warmer weather favor Netflix as the organization promote itself as "stay home and watch the world" (Epstein, 2020).
Legal:
Malaysian government has provided easiness on Television censorship of TV shows and series since 2015. The producers only required the initial approval from the information ministry on the script before the beginning of their shooting. Before that, the production houses and the content creators on TV needed approval from the Ministry at each stage of their production. The new rule favors Netflix whether they produced their content or displayed content from others (Lemon, 2015).
2.2 SWOT Analysis:
The SWOT analysis is a tool and technique used for the strategic planning and management of the different aspects of the organization; these aspects are classified into four categories; opportunity, threats, Strength, and Weaknesses. An organization's internal environment drives the strengths and weaknesses of an organization, whereas opportunities and threats are derived from the external environment in which an organization is operating (Benzaghta, Elwalda, Mousa, Erkan, & Rahman, 2020).
Concerning the case of Netflix, the opportunities are threats for the organizations will be identified from the PESTEL analysis, as the PESTEL analysis of Netflix in the Kuwait working environment has identified numerous threats and opportunities for the organization. Whereas the strength and weaknesses of Netflix are identified through the detailed literature provided in the present study related to the organization structure, corporate culture, and the key cooperation issues of Netflix highlighted in the previous section of the present study.
Internal environal scanning tool used to analyze the internal environment faced by the company includes Porter 5 Forcers and VRIO analysis framework with an intent to identify external factors influencing Netflix operations globally.
[ Obtain Professional Strategic Management Assignment Help From Expert Writers ]
2.3 Poster five Forces:
Porter five forces has been conducted to investigate the internal environment faced by the company. Porter five forces model was proposed by Michael Porter in 1979 which can be used to analyze the business situations using outside perspective. The framework aims to analyze the five forces which are part of business macro environment influencing competition with ability to jeopardize the organization ability to make profit. There competitive forces significantly Influence the competitive behavior of an organization. There forces include (a) rivalry amongst existing customers, (b) threat of new entrants, (c) bargaining power of suppliers, (d) bargaining power of buyers and (e) threat from substitutes. (Bruijl, 2018)
Rivalry among Existing Competitors:
Rivalry amongst the existing customers is the extent to which there is a competition and rivalry amongst the existing market players which can subsequently affect the market share. Using insight from these highlights firm can take numerous measures such as price discounting and marketing campaigns which will substantially improve company ability to target customers. Using this factor company can be analyzed by investigating exit barriers and switching cost of customers. Netflix being a unique idea of streaming initially but competition from various companies like YouTube, Amazon Prime, Disney, Apple TV, Hulu, Twitch, HBO Max, Youku and BBC Iplayer have saturated the market with high rivalry putting negative pressure on prices.
The threat of new entrants:
As Porter, (1985) stated that "new entrants to an industry bring new capacity, and the desire to gain market share that puts pressure on prices, costs and the rate of investment necessary to compete". The threat for new entrants subsequently depends upon the entry barriers. Online streaming market exhibits no entry barrier as anyone with a valid enterprise license can establish a company and application. Thus, entering a lucrative streaming market with production house is highly capital-intensive investment and requires significant investment in creating new content. However, large scale companies have already started entering the lucrative content subscription market as a result consumer relies on multiple subscription services for watching their favorite content. In a nutshell, threat of new entrants is low as it is an expensive commodity to produce new content
Bargaining Power of Suppliers:
Bargaining power of suppliers can have detrimental effect on the profitability of the industry as they have the potential to increase prices which will subsequently increase cost of goods sold. The bargaining power of supplier is high when market is dominated by few organizations. Global subscription market is dominated by only few large-scale production houses like Marvel, HBO, Box office and DC. Thus, the streaming platforms are multiple making bargaining power of suppliers higher as many suppliers themselves are entering Video on demand (VOD) market for branding their content instead of branding a platform. For example, Friends show was removed from Netflix and HBO deployed on their own streaming platform.
Bargaining Power of Buyer:
Bargaining power of buyer refers to the concentration of buyer in terms of competition, mutual dependence and monopoly. In the current context of services being offered by Netflix the bargaining power of buyer is very low and there is a no switching cost as all VOD providers offers minimal price differentiation. The content is what drives consumers to subscribe to a platform. Thus, what makes a Netflix unique is diversification of product and service portfolio as it caters all the niche of services under one roof from children content to movies and TV shows to documentaries.
Threat of Substitute Products and Services:
There are very few substitutes to video streaming platforms such as cinema, DVD, and blue rays but development in technology such as Metaverse and Vr gears serve as a major threat. Netflix needs to enhance its digital experience through development of new content and technology at the same time.
2.4 VRIO Analysis:
VRIO is an internal analysis tool that is used for analyzing internal capabilities and internal resources of a company. A company or companies can evaluate its internal capabilities and internal resources and identify its valuable, rare, inimitable, and organization based resources that give the company sustainable and temporary competitive advantages that the company has over other market players and competition (Gallagher, 2007). The below table shows the VRIO summary of Netflix as a content creator with their key core competencies.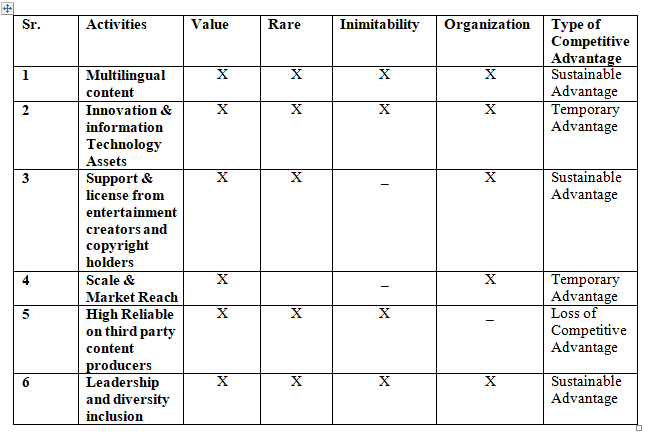 3.0 Strategies Formulation:
Business strategies can be categorized into three types which includes corporate level strategy, business level strategy, and functional strategy.
Netflix corporate level strategy is evident from its mission which suggests "to entertain the world" and achieve the vision of "becoming the best global entertainment distribution service" Considering the company vision and mission, it can be stated that company relies on expansion strategy as a part of corporate level strategy where company aims to extend the capacity and scope of business by entering new segments. Rationale for Netflix Inc, for using expansion strategy is because of the business environment which is volatile where expansion is the need for company survival
Netflix business level strategy revolves around subscription-based model allowing consumers to access entire library of TV shows, movies and documentaries at one place using multitude of device from TV to laptops and tablets to smartphones. Netflix library content offers true value to customers through exclusivity of popular content. Furthermore, easy to navigate user interface and handy features provides Netflix with user insight on its preference and habits. Netflix enables users to view content offline during their commute, plan journey and anywhere serving as an essential aspect of business strategy. When analyzing business level strategy of Netflix Inc, it falls under differentiation strategy which is based upon the idea of providing products and services which are unique as compared to their competitors. Netflix differentiates itself from other competitors through lack of advertising on their platform as add free experience gives a unique experience unlike Hulu. Another features which differentiates Netflix with other competitors is its unique recommendation software and algorithms which provides users with recommendation of unique content creating personalize experience for each user. Furthermore, Netflix also launched its own production with the name Netflix Original as this unique content can only be viewed on Netflix
Netflix functional level strategy emphasizes on achieving competitive advantage using operational efficiencies and use of information technology. Company relies on multinational streaming operations which emphasizes on cost minimization and market penetration. Considering all these three facets of strategy. Netflix needs to invest in diversification as decrease in content based over last three years poses risk for Netflix survival, Netflix needs to venture into music streaming, Virtual reality streaming and other ventures to differentiate itself from other competitors.
4.0 Strategic Implementation:
There are many challenges that Netflix faces regarding its content shared with various countries.

4.1 Availability of Entities:
Due to unavailable entities on Netflix, the streaming services face rivalry in the business market of Malaysia For example, there are other rivalries such as Amazon, Disney, and social media platforms like YouTube. Even the regular users of Netflix are not familiar with such governmental and business restrictions. Netflix users habitually search for movies or series unavailable for online streaming in every country. There is a huge number of video content available in the streaming market, but that is limited on Netflix because of business constraints, licensing requirements and cultural restrictions in Malaysia and other countries like China. Therefore, Netflix needs to focus on content available to every country based on the customers' demands. Netflix also needs to improve and update the recommender systems for content searches based on customers' needs. Netflix needs to introduce, Malay, Tamil and Chinese content for consumers in Malaysia by making partnership with local production houses in Malaysia.
4.2 Unlimited Content Discovery:
Due to unlimited content discovery on Netflix, OTT Netflix faces rivalry in the business market For example, other competing platforms such as fmovies, YoutTube and Imdb offer various other stuff and services like documentaries and TV shows to satisfy the customers. However, Netflix only offers only movies and series to the customers.
4.3 Mergers and Acquisition of Production Houses:
Netflix needs to focus on unlimited content discovery to maintain its business position in the streaming market. Netflix can venture into music streaming platforms in pursuit of new content discovery. Furthermore, company can make acquisition of renowned production houses for the production of Netflix original content which will increase its subscription in Malaysia.
4.4 Improvement in Instant Searches and Multiple Languages Content:
Netflix Inc. faces various technical problems during instant searches provided for the users based on each country. For instance, the instant search makes the queries very limited and short. Therefore, Netflix needs to improve the instant search system through cloud technology for a better user experience. Moreover, the business must modify the system to implement it on other devices. Netflix also needs to improve and design the websites based on multiple languages by designing the global templates and language selection option for users to search for content based on their preferences.
[ Acquire Professional Assistance in Strategic Operations Management From Real Expert's ]
References:
Benzaghta, M. A., Elwalda, A., Mousa, M. M., Erkan, I., & Rahman, M. (2020). SWOT analysis applications: An integr T analysis applications: An integrative liter e literature review. Journal of Global Business Insights, 56-73.
Epstein, A. (2020, April 24). With the world staying home, Netflix had its best quarter ever. Retrieved from World Economic Forum: https://www.weforum.org/agenda/2020/04/with-the-world-staying-home-netflix-had-its-best-quarter-ever
Eruemegbe, G. O. (2015). Impact Of Business Environment On Organization Performance In Nigeriaa Study Of Union Bank Of Nigeria. European Scientific Journal, 490.
Forbes. (2021, Ot 12). World'S Best Employers. Retrieved from Forbes: https://www.forbes.com/lists/worlds-best-employers/#567e1ca41e0c
Forbes. (2022). The World's Most Valuable Brands. Retrieved from Forbes: https://www.forbes.com/powerful-brands/list/
Forbes. (2022). Top 100 Digital Companies. Retrieved from Forbes: https://www.forbes.com/top-digital-companies/list/
Fortune 500. (2022, March 31). Netflix. Retrieved from Fortune: https://fortune.com/company/netflix/fortune500/
Lemon, J. (2015, June 3). Kuwait Eases Television Series Censorship Laws. Retrieved from Step Feed: https://stepfeed.com/kuwait-eases-television-series-censorship-laws-3180
Netflix. (2022). Netflix. Retrieved from The Story of Netflix: https://about.netflix.com/en
Onyusheva, I. V., & Baker, A. S. (2021). Netflix: A Case Study On International Business Strategy Development. journal on global socio-economic dynamics,.
The World Bank. (2022). The World Bank. Retrieved from World Bank: https://worldpopulationreview.com/countries/Malaysia-population
The World Bank. (2022). The World bank; Malaysia. Retrieved from The World Bank: https://www.worldbank.org/en/country/malaysia/publication/malaysia-economic-monitor-june-2022-catching-up#:~:text=Malaysia's%20labor%20market%20is%20improving,4.1%20percent%20in%20Q1%202022.
Wong, E. (2022, July 28). In 2020, the Netflix Tax in Malaysia will affect more than Netflix, Facebook & Spotify. Retrieved from https://asklegal.my/p/google-sst-malaysia-digital-tax-netflix-spotify-facebook
Wong, K. (2020, May 7). Organizational culture: Definition, importance, and development. Retrieved from Achievers: https://www.achievers.com/blog/organizational-culture-definition/
World Bank. (2021, Sept). Research and development expenditure (% of GDP) – Malaysia. Retrieved from The World Bank: https://data.worldbank.org/indicator/GB.XPD.RSDV.GD.ZS?locations=KW
---