Title: Apple Inc Strategic Management Analysis
Category: Coursework
Sub Category: Strategic Management Analysis
Subject: Strategic Management
References: APA
---
1.0 Introduction:
Company overview:
Apple Inc is the second largest information technology company which designs develop and sell consumer electronics, computer software and personal computer best known for its Mac books, Ipad, Ipod and I phone. Apple was started in 1976 as a personal computer manufacturer for industrial and educational consumers, but its succession of product development converted Apple from industrial manufacturers to consumer electronic goods manufacturer. Apple inc has one of the highest revenue company in the world with the operating income of $55.4 billion. (Annual Report, 2012) Apple is the only computer electronic company which designs and manufactures entire computer on its own from hardware components, applications and operating system. In 2013, apple in ranked amongst the top ten companies in fortune 500 list of companies. (Salvador, 2013)
Issues in the case:
The case study selected narrates the story of product development in Apple inc which is backed by innovation and entrepreneurship. All this started up with the decline of sales in 2001, when apple was selling personal and industrial computers iMac with the Macintosh operating system. Apple witnessed marginal decrease in their sales in US, EU, and JAP as traditional computers sold by Apple have already completed their life cycle and was outdated in the market. Apple under the leadership of Steve Jobs comes up with the concept of digital hub while changing the dynamics of their strategic segmentation from computer manufacturer to consumer electronic products with their new IPOD and I TOUCH. It generated the sales of $250 million units offering 140,000 applications generated $3 million. Key success factors were changed which included relative price performance, quality, reliability, innovation design, software availability, product features with high marketing and distribution capacity. Apple identified four key segments within the market which included business, creative professional, education and high end consumers. With this change in strategy their sales drastically changed as 60% of their sales were from consumer market which was previously relied on industrial consumers. Apple used innovative positioning which is stated as a "recipe of success" by Steve Jobs entering music market with IPOD as market of computer was highly fragmented. The strategy was to create new market instead of displacing existing one backed by innovation with the help of cross pollination of best talents available in the market. This digital hub strategy continued to be developed and enhanced by incorporating new segments such as cameras in IPAD. Apple is always looking for a new segment using innovative ways from IPOD to IPAD and now moving drifty towards gaming console and I-watch in 2013.
2.0 International Analysis:
Value Chain Analysis:
A value chain describes the full range of activities that firms and workers carry out to bring a product from its conception to its end use and beyond. The value chain follows R&D, designing, production, logistics and marketing activities to produce value for the customer. (Appendix 1) Apple Inc has created a glory of success brought by the experiences and years of learning from business mistakes. Value chain comprises of firm primary and secondary activities that transformed Apple into a digital hub outwitting competition. A primary activity includes inbound logistics, operations, marketing and sales while the secondary activities include purchasing, human resource management, and technology. Since beginning Apple Inc has emphasized on "Doing it their own" which means everything from point of origin to point of consumption must happen in-house, which limited their ability to seize the market. Apple Inc always focuses on the long term perspective where technology can be turned into profit immediately at short term. Then the technology is further enhanced to create competitive advantage against competitors in the market. Consumer electronic relies heavily on its suppliers, which raises issues of control and risk that is associated to the cost for the company. Apple Inc relies on supplier's code of standards to measure manufacturing standards, sourcing of raw materials, labor process and meeting deadlines. Apple Inc uses vertical integration when it purchased nextstep, a company which specialized in multitasking operating system which helped Apple to develop Mac OS X. Apple manufactures its own hardware while pre installing the required software and application, however assembly line starts from suppliers passes through engineering, software engineering, and industrial design (Apple Inc., 2008). Competitors of Apple sell their products using retailers while Apple has their own digital hub Apple stores where their products are sold around the world. Apple has more than 412 retail store in 14 different countries around the world. Apple Inc diversified its Macintosh earning using cash cow to tap consumer electronic market. However addition departments are added with the new portfolio for example Apple have IPOD division, IPAD division and IPHONE division. (Pisano, 2012)
Apple Inc., being a marketing company, became very popular with its Superbowl ad in 1980s. Since then, the company had a dynamic team of working with its marketing campaigns by enhancing the apple logo and making use of catchy slogans such as "Byte the Apple", "iTHINK, therefore iMAC", and "Say hello to iPHONE". The most popular but retired of which is "Think Different" that is still associated with the brand. Since there is a high equity in brand, Apple Inc. is the only brand with a repurchase loyalty users compared to competitor companies. The target market is also well defined – a creative and educated population with a niche of youthful subculture. The positioning statement is also clear focusing on the emotional benefit of "a cool and hip image" in reference to the physical benefit of "a sleek hardware and great software". The company also rebrands existing products by using the word "the NEW" such as in "the new iPOD". Aside from the umbrella branding of the letter "i" at the beginning of every word such sa iPOD, iTUNES, and iPHONE, branding also makes use of ordinary words that become trademarks such Shuffle, Garage Band, and Cover Flow. In the advertisements, target audiences have easy references for their decision making by giving the right level of understanding such as equating an 8GIG memory to either 2,000 songs, 7,000 photos or 8 hours of video (Apple Inc, 2008).
[ Get Premier Strategic Management Assignment Help From Expert's & Boost Your Grades ]
3.0 External Analysis: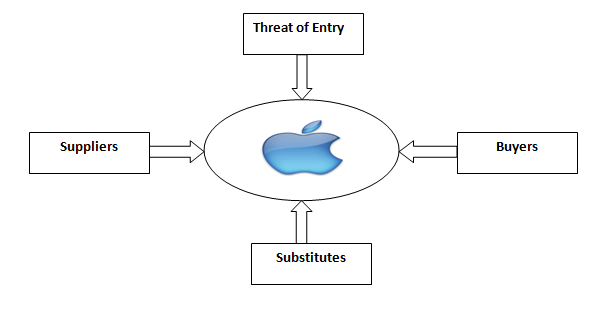 3.1 Threats of Entry:
Existing rivalry in the market includes Microsoft and Linux when it comes to operating system as apple products IMAC, IPOD and IPAD uses IOs and mackintosh operating system. When it comes to computer hardware competitors operating in the market includes DELL, HP, ASER and LENOVO (IBM). IPOD's of Apple are competing with MP3 players made by Samsung and Sony. I-store of Apple is competing with Napster. The existing rivalry shows that market of each portfolio is oligopoly in nature, which means that there are a lot of market barriers. Entry for new products requires capital investment, which itself minimizes the threat for new market players in each segment. However, substantial dominance of Wintel platform and low cost large players in the market which includes Dell, Lenovo, Hp, Sony, Asus, Aser and Samsung serves as high threat for entry if Apple has intention to enter new portfolios such as gaming consoles and i-watches as mentioned in the case. To conclude, we can say that threat of new entrant is low.
3.2 Bargaining Power of Buyers:
Customers sharing music on internet using peer to peer servers is the biggest threat for Apple IPAD and IPOD, which has high reliance on I-tunes. Apple always enters into the market as a premium price strategy, which may give opportunity to retailers and distributors for lower prices and better terms and conditions. Consumer's attitudes, behaviors and purchasing pattern can also emerge as a threat for Apple, as low cost market players are coming up in each segment such patterns are known as known as consumer refresh cycle. Despite facing all these threats the past pattern of computers and application sales shows that high end are mostly loyal to the company and they have imperfect knowledge about prices. To conclude we can say that bargaining power of consumers in comparatively low. (Hamel)
3.3 Bargaining Power of Suppliers:
Apples have a lot of vendors includes IBM, Sony, Intel for the small components of Mac book, IPOD and IPAD however these components are designed and manufactured by Apple in the form of finish goods. Application vendors of Apple include Disney, ABC, Fox, Sony, Warner and Universal. Most components are commoditized, however Intel, Motorola, IBM become dominant, that increases power of supplier. To conclude we can say that bargaining power of suppliers is very high.
3.4 Threat of Substitutes:
PC's and other products offered by Apple are in multiple configurations, performance and prices ranges. Others firms operating in the market also offers goods products with high specs, which creates certain rivalry. For example Satellite Radios and cloud internet platforms are being used widely as a source of music (Sirus and XM). To conclude we can say that threats of substitutes are very high especially if Apple have intention to enter a new portfolio of gaming console Nintendo Wii console has emerged as a big substitute as stated in the case.

4.0 SWOT Strategy Position:
4.1 Strengths:
• Apple Inc is famous for having the best R&D talent and teams working in a deep collaboration to create recipe for new market.
• The success in different portfolios gives Apple as a reliable brand name and customer loyalty, which provides safe ground to invest in new portfolio.
• Organization culture of Apple is highly dynamic and where high emphasis is given to internal innovation and cross pollination of talents.
• Strategic partnership and alliance with other companies gives Apple a unique strength and competency to make smooth extensive distribution and marketing platform. For example Apple and IBM alliance.
4.2 Weaknesses:
• The biggest weaknesses and problem with Apple is that its compatibility with other operating system for example the compatibility rate of application is low as compared to other operating system such as Android and Microsoft.
• Apple has an inconsistent strategy change which is not aligned with the business model. The biggest example of strategy failure was their cost cutting campaign of R&D in 2012.
• After the sad demise of Steve Jobs there is a lack of leadership and no evidence of effective succession planning and inbreeding in the organization.
4.3 Opportunities:
• Apple can successfully capture existing avenues of new technological domains along with the inbreeding of technology for example i-cloud can create new venture of success along with I-book and I-tunes.
• Apple needs to cater new markets with the expansion of their distribution as BRICS countries have emerged as emerging economies for consumer electronics. The expansion of Apple store must be focused by Apple.
• Apple also needs to focus on marketing myopia, by catering other segments for example Marks and Spenser who went into supermarket portfolio after success
4.4 Threats:
• Majority of threats comes from other companies, the best example is Samsung which has more market share than Apple in the cellular phones portfolio.
• Legal issues with Chinese replica manufacturers have also emerged as a threat for Apple.
• Economic downturn and recession is also another threat for Apple as Apple cannot enter into the market with their premium pricing strategy as consumers are highly price sensitive.
TWOS:
TWOS ANALYSIS
Strengths
Weaknesses
Opportunities
• With their best R&D and talented resources Apple Inc can easily work on existing avenues of technology such as i-cloud.
• Their established brand name will help Apple to expand its distribution in BRICS countries.
• Inconsistent strategy of Apple can help other companies like Samsung to create impact on the market share.
Threats
• Their strategic partnership with other Chinese companies such as Lenovo can help them to face legal dilemmas of piracy and replication.
Recommendations:
Apple Inc should focus on outsourcing some components to achieve low cost of production, as firms operating in consumer electronics have realized that outsourcing is the only way to achieve competitive advantage and economies of scale cannot be achieved on all components. Apple Inc needs to have strategic alliance or R&D alliance or conglomerate with some other firms. Such partnership will help to seize the opportunity using their internal strength of talent acquisitions. Strategic partnerships can save time of cost of R&D that was previously dedicated to research, creating prototype and testing. Apple Inc R&D can then align their R&D only on the future avenues of technology.
[ Acquire Best Strategic Management Assignment Assistance From Professional Strategic Management Writer ]
5.0 References:
Apple (2013). Suplier Sustainability Report. Retrieved from http://www.apple.com/…/pdf/Apple_SR_2013_Progress_Report.pdf
Rodriguez, Salvador (May 6, 2013). "Apple makes Fortune 500's top 10 for first time; Facebook makes list". Los Angeles Times. Retrieved June 10, 2013.
Global Value Chains – Duke University. (2010). Retrieved August 19, 2013, from http://www.globalvaluechains.org
Pisano, G. P. (2012). Creating an R&D Strategy. Harvard Business Review, 12(2). Retrieved from http://www.hbs.edu/faculty/Publication%20Files/12-095_fb1bdf97-e0ec-4a82-b7c0-42279dd4d00e.pdf
Hamel E, Prahalad CK. (1994). Competing for the Future. Harvard Business School Press:Boston, MA.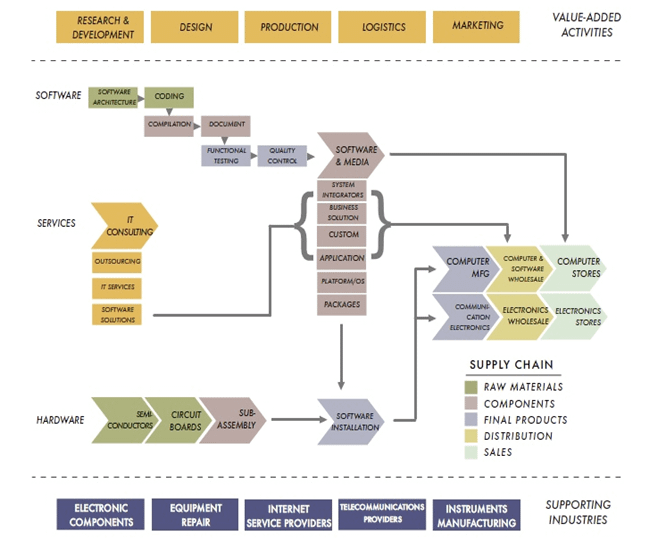 ---