Title: BMS Organics and Analysis of Potential Foreign Market
Category: International Marketing
Sub Category: Global Marketing
Subject: Marketing
References: APA
---
Introduction:
BMS Organics is a Malaysian family owned enterprise which was started in 1997 by Lee family, with their first branch in USJ 9 Subang Jaya. BMS Organics has expanded exponentially over the year with 37 retail outlets in Malaysia. BMS Organics tends to serve a niche market of organic food stores and restaurants which serves vegetarian organic food. In 2018, BMS Organics have network of 37 outlets, 9 restaurants and an online store delivering organic merchandize nationwide in Malaysia. BMS was not only a pioneer in the industry but it has also emerged as a market leader in promoting organic lifestyle produce and merchandize using natural farming system unlike traditional produce and merchandize which contains pesticides, herbicides, and chemical fertilizers. All products being sold under BMS brands are organically produce and manufactured and free from genetically Modified Organism (GMO) content. (BMS Organics Official Website, 2018) Mission statement of BMS Organics revolves around "To protect our planet and the health of future generations through services and education." BMS Organics brand has gained both regional and global recognition as it has been awarded with by Malaysia Book of Records, Sin Chew Business Excellence Awards and MRCA Brand Achievement 2014. (BMS Official Website, 2018)
Selected Country for Market Entry:
Best potential market for BMS expansion is market of United Kingdom (UK) especially England which is a high growth market which poses numerous opportunities for Asian retailers especially after post Brexit scenario as high tariffs are endured on products from European origin in post Breit scenario. England has population of 55,268,100 with the GDP of £1.43 trillion with the potential of phenomenal growth. (CIA Factbook, 2018)

MARKET POTENTIAL INDEX (MPI) OF UK:
The market potential index (MPI) is a market attractiveness indicator which provides aggregative measures for growth of foreign company in a particular host market in terms of doing business. It is a strong indicator which serves as guidelines for business around the world in providing tentative justifications for firm entry and exit decision by ranking countries in terms of their pertinent characteristics with other countries around the world. MPI can provides insight to firms whether a particular host country is favorable to conduct business based upon eight indicators which includes (a) market size, (b) market growth rate, (c) market intensity, (d) consumption capacity of market, (e) commercial infrastructure in the country, (f) economic freedom, (g) market receptivity and (h) country risks. Each of these indicators are calculated based upon numerous attributes by Global Edge Rank which has ranked UK amongst top 10 markets in terms of overall MPI rank where UK has been ranked 8th attractive market for doing business with the overall score of 37.

Market Size:
According to Global Edge, market size is ranked 25 out of 100 and it comprises of two different measures which includes electricity consumption and urban population. UK reported 5,129.53 kWh per capita consumption of electricity in 2014 as showed in figure below.

Urbanization has significantly increased in UK as 82.8% of the total population lives in the urban areas which is a positive outlook for a country as urban areas poses more opportunities for consumerism with the increase in disposable income amongst its citizens.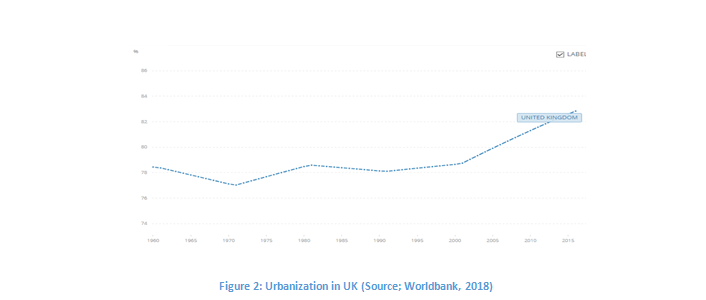 Market Growth Rate:
According to Global Edge, UK has been rated 34 in terms of market growth which is ranked 12.5 out of 100 and it comprises of two different measures which includes (a) compound annual growth rate (CAGR) of primary energy use and (b) compound annual growth rate (CAGR) of GDP. In UK variety of fuels are used to generate electricity. Compound annual growth rate of GDP for UK was 1.9 percent which was lowest since 2013; however the average CSGR reported was 2.45% from 1956 until 2017 as showed in figure below.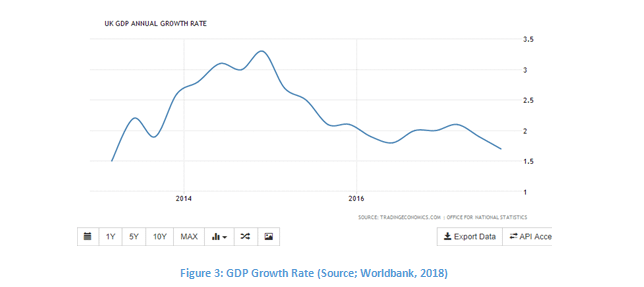 Market Intensity:
According to Global Edge, UK has been rated 76 in terms of market growth which is ranked 12.5 out of 100 and it comprises of two different measures which includes GNI estimate using PPP and private consumption as part of GDP. UK has reported gross national income as per purchasing power parity of $42100 in 2016 which suggest that consumers have high purchasing power with higher preference for consumption of organic food. The below figure shows the GNI of UK which serve as a positive outlook for BMS organics.

In UK, private household consumption is reported to be 66.35% of their GDP which is a positive outlook. Organic food retail market in UK is perfectly competitive where all the global organic brands around the world have significance presence. Despite this dominance by major players in organic food landscape, there seems to be a new trend that shows more consumers are leaning towards organic lifestyles as UK witnessed 4% increase in organic sales in 2014. The below figure shows the household final consumption in UK to % of GDP

Market Consumption Capacity:
According to Global Edge, UK has been rated 85 in terms of market consumption capacity which is ranked 12.5 out of 100 and it comprises of three different measures which includes consumer expenditure, income share of middle class and household annual disposable Income of middle class. According to Statistics, (2017) consumer expenditure in UK is increasing a rapid pace which is recorded £1202758 GBP in 2016 which is a positive outlook for merchandize retail brand like BMS, as the below figure shows that consumers spending in UK is increasing at a rapid pace.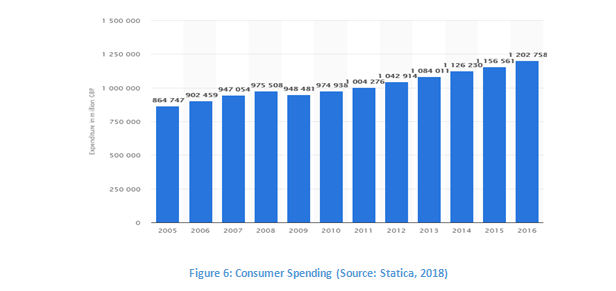 UK accounts for one of the lowest middle class in entire Western Europe with the disposable income of £19,000 – £57,350 as 67% of the population is middle class, 19% belongs to lower class and 14% belongs to upper class as showed in figure below. (Cannochi, 2017)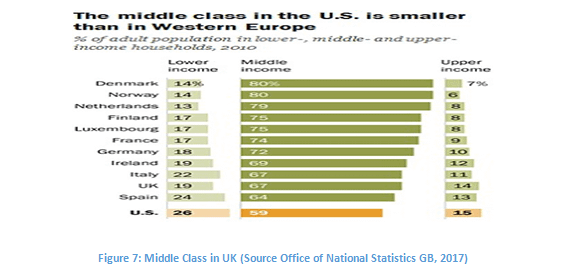 Household annual disposable income is UK is recorded to be £27,300 in 2017 which is 2.3% from previous years depicting positive outlook for growth of organic brand. (Office of National Statistics GB, 2017)
Commercial Infrastructure:
According to Global Edge, UK has been rated 67 in terms of commercial infrastructure which is ranked 10 out of 100 and it comprises of seven different measures which includes (a) availability of airlines seats, (b) cellular mobile subscribers, (c) household with internet access, (d) international internet bandwidth, (e) logistics performance index, (f) paved road density and (g) population per retail outlet. According to World bank, (2017) mobile subscribers in UK are 122.32 for every 100 people which means everyone has access to cellular service and data which can have significant impact on web traffic on BMS online store as showed in figure below.

88% of UK households with only one adult aged 16 to 64 years had internet access as 93% of consumers have access to fixed broadband (93%) whereas 26% of households as an internet connection on their cellular phone. However UK is ranked 1 in terms of international internet bandwidth. (Office of National Statistics GB, 2017) UK has been ranked 8th in terms of logistic performance index with the score of 4.07 which creates ease of BMS to avail the logistics infrastructure for the distribution of their products and services.
Economic Freedom:
This measures the degree to which government intervenes in business activities. The UK has an economic freedom score of 73. The non-intrusiveness of the government bodes well for foreign investors, because they can trade freely. BMS organic can benefit from this economic freedom and enjoy 100% ownership in England. In UK, protection of intellectual property rights is effective favoring the external investors, thus BMS organics can register patents in UK market for their trademark products. Economic freedom is measured based upon two indicators which includes economic freedom index and political freedom index. UK is ranked 12 when it comes to economic freedom index. (Heritage, 2018)
Market Receptivity:
This is a measure of the particular market to trade with the exporter's country as estimated by the volume of imports. The UK has a market receptivity of rated 13 based upon its per capita import and trade as a percentage of GDP. UK is ranked 41 when it comes to per capita import which was recorded $10,177.53 in 2012 and trade is 58.026% of the GDP as showed in figure below.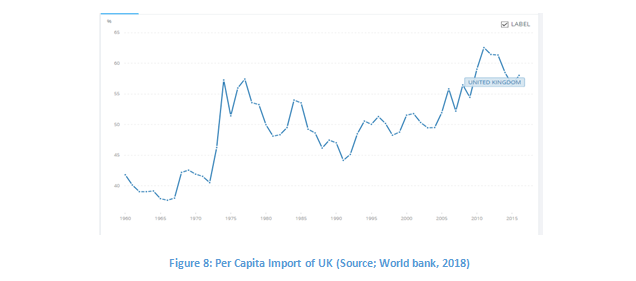 The U.K. generally treats foreign and domestic investors equally. A fair bank tax applied to both domestic and foreign banks has been in place providing BMS organics an opportunity to enter UK without the fear of high tariffs and taxes. BMS organics can export some Asian organic herbs from Malaysia and Indonesia which can result in competitive advantage for BMS organics. Beside that BMS can also open Malaysian trademark organic restaurants where Malaysian organic food is served as UK have high receptivity to explore other country cultures especially their local delights and foods.
Country Risks:
UK is ranked 84 when it comes to country risks which mean UK has a relatively stable political environment and will enjoy this relative stability in the future. The only issue may be the fact that the country is prone to retaliatory attacks and terrorist threats. Country risk is measured based upon three indicators which includes business risk rating, country risk ratings and political risk ratings, thus United Kingdom (UK) is a CRT-1 country with low or very low levels of economic, political and financial system risk.
ENVIRONMENTAL ANALYSIS:
PEST analysis is used for macro environment faced by BMS organics in UK whereas Porter 5 forces and SWOT analysis has been used to conduct micro environment analysis.
PEST ANALYSIS:
POLITICAL:
UK doesn't provides subsidies on organic farming
BMS organics will be taxed 15-17.5% on general sales tax and 4% of income tax based upon the overall net income. Taxes will increase to 20% if annual revenue exceeds 1.5 million GBP.
Brexit decision will be favourable for BMS as high tarrifs will be imposed on products exported from EU.
Compliance to labour laws which will increase the labor cost associated with BMS operations in UK.
All companies who wants to do business require organic import authorization which is issued by Department for Environment, Food and Rural Affairs (Defra) (Ni Business Info, 2018)
ECONOMIC:
Positive economic outlook of GDP per capita and 5th highest GDP in the world.
Population is increasing at a rapid pace making niche like organic brands a very lucrative market.
Low middle class as compared to Western Europe and increase in Inflation rate.
FMCG markets are subject to concentration risks.
SOCIAL:
Consumers have high awareness of organic products and its health benefits due to subsequent change in attitudes and values towards consumption.
Middle class market which is 61% of the total population have high disposable income to live an organic lifestyle.
TECHNOLOIGICAL:
High penetration of internet and e commerce which serves growth potential for BMS website and mobile application to purchase their favorite organic brand.
BMS organics can utilize digital marketing as a cheap mean for marketing communication.
SWOT ANALYSIS:
STREGTHS:
BMS offers wide range of products and merchandize.
BMS Organics have multiple distribution channels.
BMS organics has diversified portfolio with organic restaurant offering Malaysian delights to UK population.
The best quality organic ingredients are used.
Products are manufactured in eco factories and also packaging is recyclable, taking the target audience into consideration.
WEAKNESSES:
BMS products are comparatively expensive than other local products who have synthetic cold chain.
BMS relies on products and merchandize which are exported from around the world which may result in stock out situations at stores in UK.
BMS have no experience of operations in high growth market like UK.
OPPORTUNITIES:
Rapid growth in organic beauty market.
BMS can target people from all genders and age backgrounds.
BMS can seek for relative diversification by opening a wellness and yoga to promote organic lifestyle in UK.
THREATS:
High competition as all reknowned world famous brands have outlets in UK.
High price of the products limit the potential customer.
High taxes and tariffs imposed on imported products.
PORTER 5 FORCES:
Power of Buyer:
Power of buyer is high as there are world class retailers competing for market share.
Power of buyer can be decreased with product differentiation as BMS organic restaurant segments where British consumers can experience organic food with fine dinning experience
Powers of Suppliers:
Power of supplier is low as there are numerous suppliers of organic food.
BMS can further decrease the power of suppliers by acquisition of farms in the peripheries of the urban areas and relying on local freshly produce supplies.
Threats of Substitutes:
Traditionally non organic food poses high threat to consumption of Organic food as major market share of produce and merchandize are comprises of non organic products which are also certified by WHO.
Threat is mitigated with the level of education and awareness amongst consumers as non organic consumer poses numerous health risk.
Threats of New Entrants:
Threat of new entrants is high as low investment is required and there are no market entry barriers.
Threats of Competitors:
Competition is firce as UK market is dominated by big players such as Planet Organic, Real Foods, Naturally Good Food, The Health Store, Farm drop London, From Farm to Folk
MARKET EVALUATION TABLE:
COUNTRY INFORMATION
RANKING FROM (1-10)
Market Potential Index
9
Competitors
(a) Strength of Competitors 9
(b) Number of Competitors 9
(c) Market Share 9
7
New Market Entrants
(a) Substitute 7
(b) Switching Costs 8
5
New Entrants in the Market
(a) Capital & Investment 5
(b) Brand Name 5
(c) Barriers to market entry 4
7
Substitute
(a) Number of Substitute 1
(b) Switching Cost 1
2
Power of Buyers
(a) Strength of Buyer 1
(b) Number of Buyers 9
5
Power of Supplier
(a) Strength of Supplier 5
(b) Number of Suppliers 3
7
Political Environment
(a) Taxation 4
(b) Corruption 0
4
Economic Environment
(a) Inflation 5
(b) Unemployment 6
(c) GDP per Capita 6
(d) Foreign Investments 8
7.33
Social Cultural Environment
(a) Population 6
(b) Education 10
(c) Diversity 10
8.66
Technological Environment
(a) Access to communication 10
(b) Internet Penetration 8
(c) Other Infrastructure 10
7
TOTAL SCORE
6.27
G.E MATRIX TABLE:
Business Unit Strength: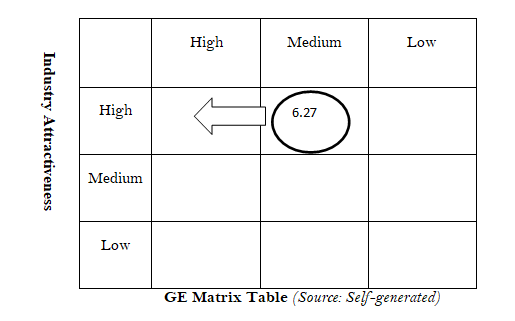 GE matrix is a vital tool to evaluate the overall strength of strategic business unit of brand based upon industry attractiveness and strength of business unit. UK serves as an attractive market for selling organic brands but the internal environment of BMS business unit reveals moderate strength to cope up with the competition. UK market is saturated with many sellers however the demand for organic is increasing at a rapid pace of 4% per annum. BMS Organic needs to penetrate the urban UK market with point of differentiation. UK market for organics food is still growing, despite low economic performance and Brexit consumer preference for organic food items has been a driving annually despite having unstable financial turmoil.
RECOMMENDATIONS AND CONCLUSION:
BMS should thus rely on acquisition of local organic brand in UK to mitigate their internal risks which erupts from the lack of experience in a new market which have significant differences in terms of customer lifestyle, preference, purchasing patterns etc. UK market can expose BMS to certain risk events such as securing organic import authorization and understanding market dynamics. A market research company must be hired by BMS organics to conduct market analysis in order to evaluate the attractiveness of their brand prior taking risk of market entry.
BMS organics which is largest Malaysian organic chain has been proposed to select UK as a destination of market entry as MPI's which is issued by Global Edgerank has rated UK as 8th attractive destination for foreign direct investment (FDI). Macro and macro analysis of BMS organics in UK has been analyzed which reveals the internal and external environment which will be potentially faced by UK. Lastly a strategy management tool of GE matrix has been used which provides details on position of BMS in terms of industry attractiveness and strength of BMS. Lastly author has proposed recommendations for BMS to enter UK market while adapting certain measures.
REFERENCES:
Canocchi, C. (2017, April 25). UK middle class remains one of the smallest and poorest in Europe. Retrieved from http://www.thisismoney.co.uk/money/news/article-4443694/UK-middle-class-one-smallest-poorest-Europe.html
NI Business Info. (2017, March 13). Applying for organic import authorisation. Retrieved from https://www.nibusinessinfo.co.uk/content/applying-organic-import-authorisation
Office of National Staitistics. (2018). Internet access – households and individuals – Office for National Statistics. Retrieved from https://www.ons.gov.uk/peoplepopulationandcommunity/householdcharacteristics/homeinternetandsocialmediausage/bulletins/internetaccesshouseholdsandindividuals/2017
Office of National Statistics. (2018). Retail enterprises in the UK by number of outlets and with turnover of £90,000 or more – Office for National Statistics. Retrieved from https://www.ons.gov.uk/businessindustryandtrade/business/activitysizeandlocation/adhocs/007112retailenterprisesintheukbynumberofoutletsandwithturnoverof90000ormore
Statistica. (2018). Total consumer spending 2005-2016 | UK Statistic. Retrieved from https://www.statista.com/statistics/368665/consumer-expenditure-united-kingdom-uk/
World Bank. (2018). Global Rankings 2016 | Logistics Performance Index. Retrieved from https://lpi.worldbank.org/international/global
World Bank. (2018). Mobile cellular subscriptions (per 100 people) | Data. Retrieved from https://data.worldbank.org/indicator/IT.CEL.SETS.P2?locations=GB
World Bank. (2018). Trade (% of GDP) | Data. Retrieved from https://data.worldbank.org/indicator/NE.TRD.GNFS.ZS?locations=GB
World Bank. (2018). Household final consumption expenditure, etc. (% of GDP) | Data. Retrieved from https://data.worldbank.org/indicator/NE.CON.PETC.ZS?locations=GB